GMP News
18 June 2003

FDA Presents Its Analysis
of Observations Noted on 483 Forms

It usually takes some time before one can access the official FDA statistics for the previous fiscal year (October 2001 - October 2002).

This has indeed happened only recently, so that we can present you with a current selection of data.

In Fiscal Year 2002, the FDA conducted 281 inspections abroad. 185 of them ended up with the issuing of a 483. The analysis of the 483s is very interesting since they themselves cannot be viewed on the Internet.

The topical focus of the 483s already follows the structure of FDA's new System-based Inspections. Most of the observations refer to facilities/equipment, laboratory (21% each) and the quality system (20%). Production (18%) ranks 4th. The material system (12%) and packaging/labelling (5%) rank 5th and 6th respectively.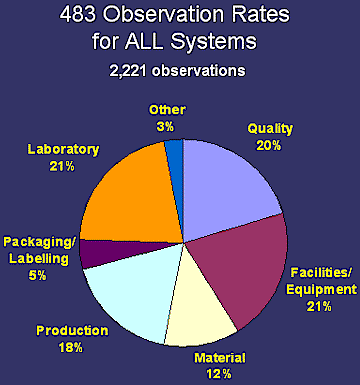 Illustration 1
35% of the 477 observations made in laboratories were of a general nature. Inadequate records/SOPs rank 2nd with 27% and the stability programme ranks 3rd with 21% (cp. illustration 2).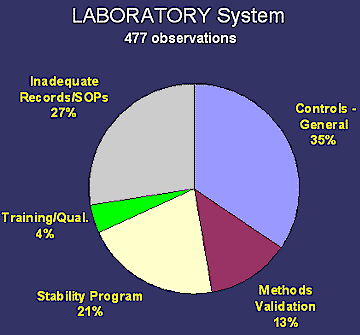 Illustration 2
466 observations noted on a 483 referred to the facilities/equipment system. In this area, the worst offender was cleaning/maintenance with 28%, closely followed by inadequate records/SOPs (25%), which rank 2nd again. Equipment design/qualifications ranks 3rd with 17%. See illustration 3 for further details.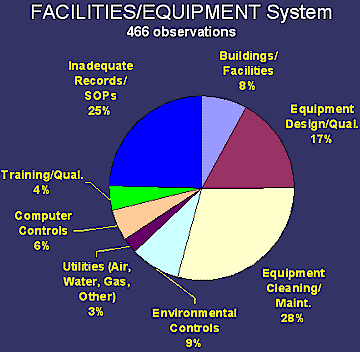 Illustration 3
450 observations concern the quality system. 30% of them find fault with the documentation, 28% disapprove of the QA conduct, and 25% criticise the failure investigation/OOS. What is interesting is the fact that these data only encompass the period from February to July 2002 (see illustration 4)!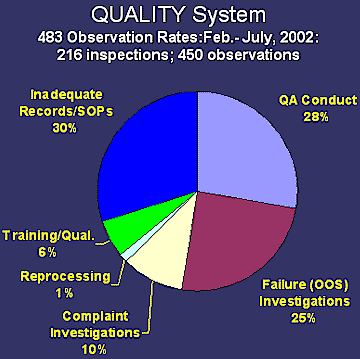 Illustration 4
Among the 394 observations regarding the productions system, inadequate documentation is again in the lead (39%). Process/design validation (24%) ranks 2nd and product/process control (21%) ranks 3rd. For further details see illustration 5.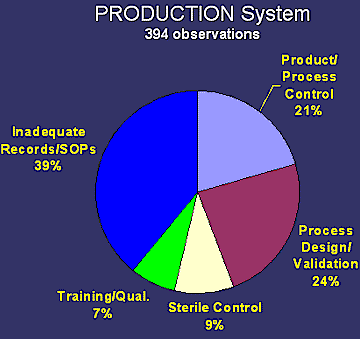 Illustration 5
As many as 42% of the 294 observations regarding the material system censure the components/closure integrity. Inadequate records/SOPs come 2nd with 21% and process water, 3rd with 17% (cp. illustration 6).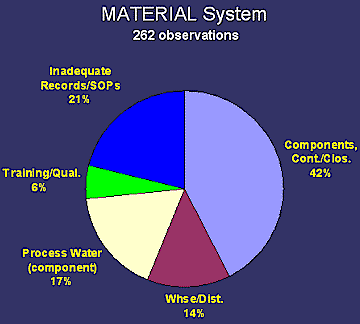 Illustration 6
The last system (packaging and labelling) gave rise to 104 observations. Process and controls was referenced in 47% of these observations, which is the highest percentage of all systems. Inadequate records/SOPs (36%) and training/qualification (17%) rank 2nd and 3rd respectively (see illustration 7).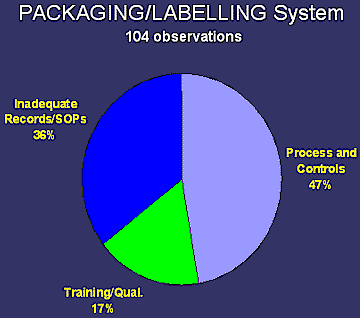 Illustration 7
These 483 findings are correspondingly reflected in the analysis of findings in Warning Letters (cp. GMP News of 2 April 2003).
In this context we would like to recommend you the following GMP events, which deal with important FDA topics:
GMP and FDA Compliance in Quality Assurance Units, 15-17 October 2003, Vienna, Austria
GMP Compliance AUDITOR, Barcelona, Spain, 28-29 October 2003
GMP Upgrading/Remodelling - Including a Site Visit of the PharmaVision Plant, Istanbul, Turkey, 13-14 November 2003
Author:
Sven Pommeranz
CONCEPT HEIDELBERG